anelson

November 05, 2018

#ukraine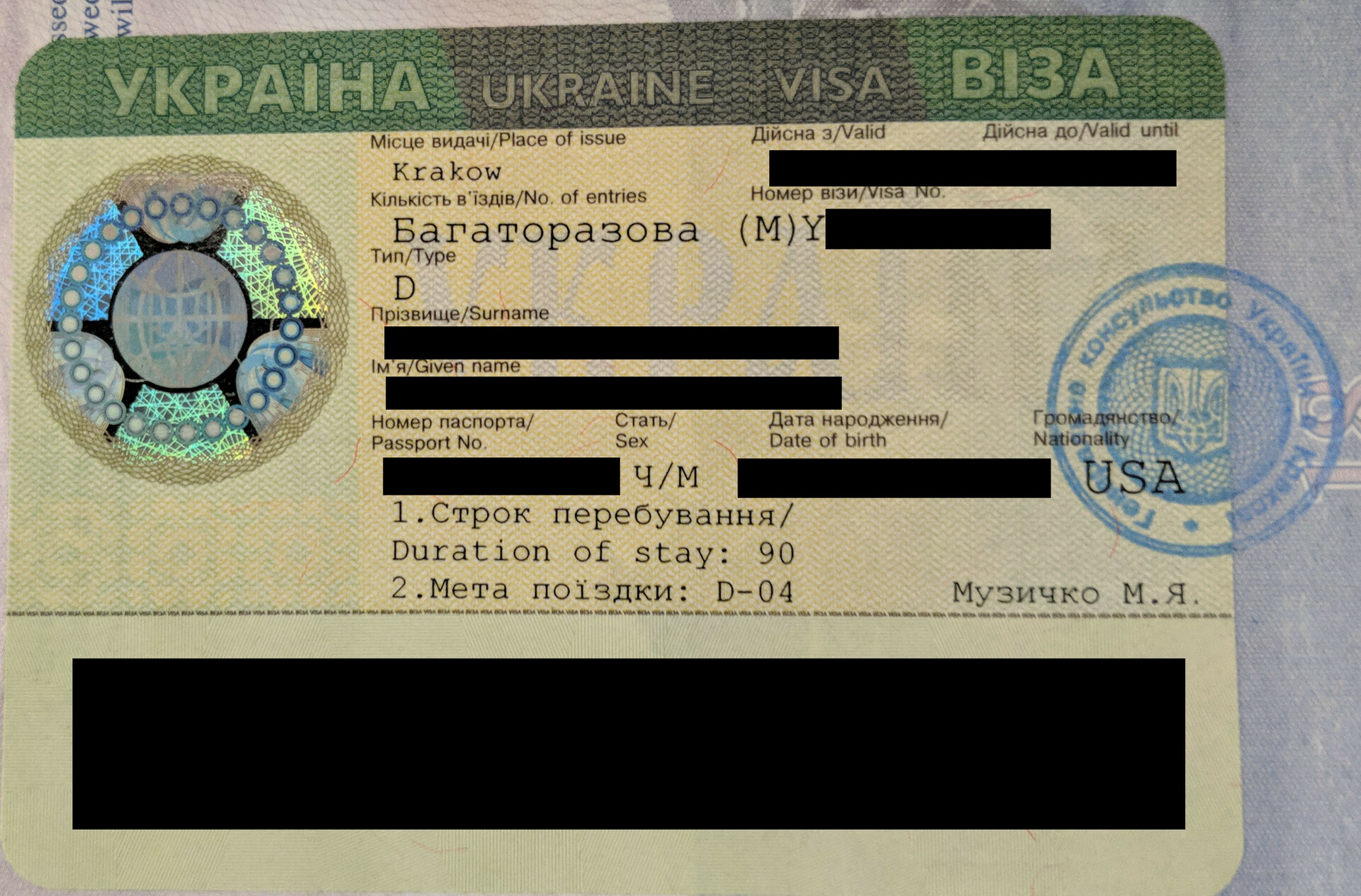 About a month ago I obtained my Ukraine work permit, which was to be the final step before obtaining legal residency in Ukraine. But there was some confusion on the part of my immigration lawyer, as a result of which it turned out I needed to go to a Ukrainian consulate outside Ukraine and obtain a long-term "D" visa, prior to obtaining residency. I chose to go to the Ukrainian consulate in Krakow, Poland, both because it's very close (1.5 hour flight from KBP) and because I'd been to Krakow before and really liked the city.
I had prepared all necessary documents with my lawyer when I was still in Kiev. I then went to the Ukraine Ministry of Foreign Affairs e-Visa site, and filled out the application online. Once that was done I was able to make an appointment, also online, at the Krakow consulate. In addition to a printed copy of the visa application, I also brought:
A copy of my Ukraine work permit
A notarized proof of health insurance in Ukraine, which my lawyer obtained for me
A notarized photo copy of the same
A copy of my most recent US bank statement (I didn't need to notarize it)
Two passport photos
My US passport
The process was simple. The consular staff spoke English, and were obviously very familiar with the process. Once I handed over the documents, they gave me the address of a Bank Pekao branch about a mile from the consulate, where I had to go pay the USD 184 application fee. It was a pleasant fall day in Krakow so I just walked leisurely there. One mistake I made was not bringing US dollars with me; I assumed it would be possible to pay by credit card, but it was not. Fortunately I had EUR 200 in cash, which the bank converted into dollars for a small fee. If I had it to do over again I'd be sure to bring US dollars.
After paying the visa fee at the bank, they provided me with a receipt as proof that I had made the payment. I took this back to the consulate, and gave them my passport as well. That was at around 10:30 AM. They told me to come back at 2PM and my visa would be ready. I was astonished! I had planned to stay in Krakow five days, and hoped that would be enough time. I had no idea it would be so quick.
I went and killed time in the city for four hours (not a difficult task in Krakow), and by the time I returned to the consulate my visa was ready, pasted into one of the visa pages of my passport. Strangely, they did not place my photo on the visa itself, so I'm not sure why they needed the two passport photos.
All in all the entire process was straightforward and modern. I have been very impressed with the Ukrainian bureaucracy so far; compared to the horror stories I've heard from expats who've gone before me this has been an effortless experience. I would say the biggest problem I had was how to entertain myself for four more days until my flight back to Kiev!